The Cornwall Food and Beverage Company is young and innovative and was founded in 2012. Their factory in Newlands Johannesburg produces high quality, value for money food and beverage products.
The company was started by CEO Craig Mackenzie, who has harnessed his entrepreneurial spirit with his vast knowledge and experience in both the food and beverage industries.
It was with much expectation and excitement that I tasted a small selection of the Cornwall range and right from the start, my expectations were far exceed.  So let's get into the nitty gritty…
B-Vegan, is a brand-new product range in the Cornwall SA stable and has been developed under food technologist Nicky Petrinovic and brand development manager Keith Larson who himself is a food technologist and executive chef.
I tried 5 different vegan pizza bases, Cauliflower, Zucchini & Parmesan, Beetroot, Sweet Potatoe and Spinach & Pesto, as well as a variety of the vegan cheeses – Mozzarella, Cheddar, Tomato Pesto, Garlic & Herb and Parmesan. Also included in the box of vegan goodness was vegan butter, sundried tomato pesto, hummus with oil, basil pesto and tomato hummus.
Not being a vegan myself (well not yet, anyway), I am always curious to taste vegan items to gain a better understanding of the vegan palate and to get an insight into the flavour profiles that this growing segment of the market is experiencing with the products they purchase.
What immediately excited me about the pizza bases is that they are fabulously thin so I knew immediately that in terms of texture these were going to work for me. Having tasted all these bases with a wide variety of toppings, I have to admit I'll certainly be stocking up on these for when the pizza craving strikes. They all crisp up beautifully in the oven and deliver their own unique flavour that they should. No more take-out pizza for me!
What makes these even more unique is that they are all gluten free, banting and vegan friendly. I absolutely loved the Zucchini & Parmesan and the Spinach & Pesto bases. I loved how well they baked and the ease of cutting them into perfect slices. Whether you are vegan or not, these pizza bases are some of the best in South Africa.
The cheeses fascinated me. I kept asking myself how you could create a cheese that tasted like Mozzarella or cheddar without it being the real thing? It should come as no surprise that cheese is truly one of my guilty pleasures and there is not a cheese out there that I will not try and now I can slot Vegan cheese into that mix.  These cheeses not only delivered on flavour, in some cases they went beyond the so-called real thing, in particular the garlic and herb – it just explodes with flavour and there was none of the cheese greasiness.
I look forward to adding these to my cheese platters to see who can identify the vegan cheese. What I would love to see is a mature cheddar that truly has that bite in the back of the throat.
Like the cheese, the vegan butter was certainly full of rich smooth goodness. It is also easy to spread which is always a plus and the aftertaste is a lot "cleaner" than normal butters.
The pestos and hummus are all rich and flavoursome and are the perfect accompaniment to any pre-dinner platter. Call me old fashioned but the Basil Pesto stands out and it has to be one of the best pestos I've ever eaten.
The B-Vegan range has taught me a lot and has left me wanting to experience more vegan options and has certainly ensured that this range of products will become commonplace in my kitchen.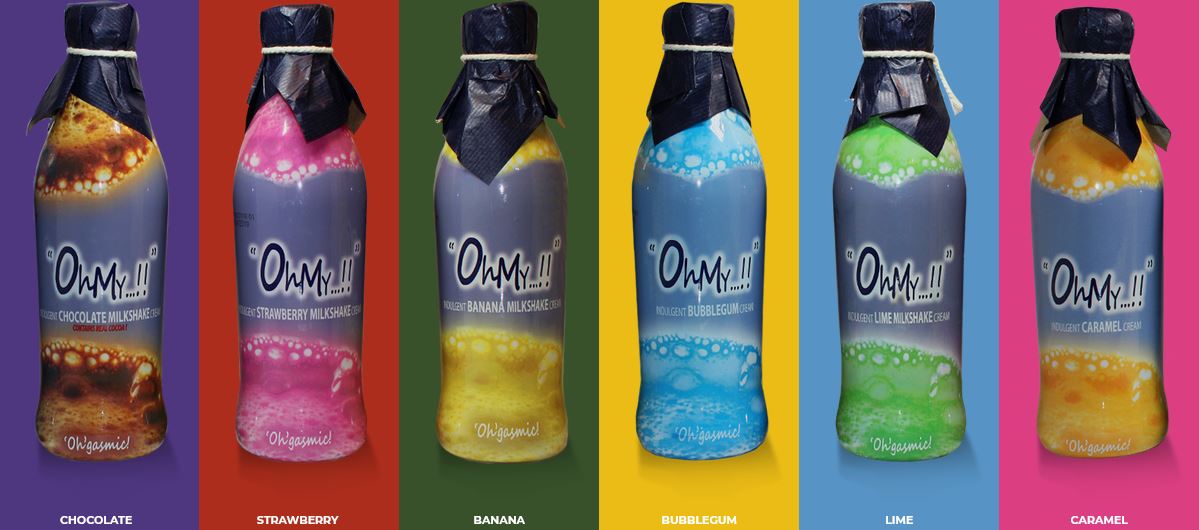 "OhMy…!!" comes in four classic flavours – chocolate, strawberry, banana and lime. I tried banana flavour which pleased me as I firmly believe that banana flavouring is possibly the most difficult to replicate. The liqueur is rich, creamy and velvety smooth with a solid kick of alcohol. It can be enjoyed as a shooter but I loved it in a tall glass over crushed ice. It can also be warmed up as the perfect nightcap or as a great finishing touch to make any dessert "Oh'gasmic!"
I am always somewhat skeptical of any premixed cocktail or wine in a can. So, when I was presented with Swizzle's seven canned cocktails, I was a little nervous. I did find them extremely attractive. The packaging is slick, funky, bright and modern. I cracked up the Mojito, poured it into a tall cocktail glass with some garnish and began sipping. It blew me away as every note of a hand-mixed Mojito was there. The flavour, amount of alcohol and lingering aftertaste were spot on. The strawberry daiquiri is divine. It is thick, rich and full of flavour. I also  loved the Luscious lemon which is a craft vodka and homemade lemonade blend. It is outrageously refreshing and needs to be in fridge as we head into the hot summer months. There is also the Cranberry Cosmo, which packs a tart punch. The Moscow Mule, again with craft vodka blended with spicy ginger beer and lime juice really delivers. Overall, the Swizzle range was the greatest surprise package as they truly are top end cocktails, packaged beautifully and executed perfectly. Prepare yourselves for a sensory overload when you open one of these!
"MELKTERT" "MELKTERTJIES" & "MELKTERT BOKKIE"
The Melktert range comes in four variants, Melktert, Melktertjie, Springbokkie and Marula, I got to try all four and my goodness these are next level delicious.
This is not a cream liqueur that tastes like the pudding but rather a delicious version of the homemade shooter.  That description is bang on the money. It is rich, creamy and packs a punch. Anyone who enjoys this unique South African flavoured shooter is going to love this. I particularly enjoyed it with just a little sprinkle of ground cinnamon on top.
If you're looking for the cinnamon notes then the Melktertjie is the way to go. The cinnamon is not overpowering but definitely adds a touch of finesse to the complex taste.
The Springbokkie is a classic shooter in our country and traditionally layers two liqueurs on top of each other. The Melktert range simplifies the process and combines all the ingredients into one bottle. The colour is the perfect Springbok green and is creamy and infused with strong mint, making this a refreshing shooter.
My absolute favourite though has to be the Melktert Marula, the notes of this liqueur are bold, brave and punchy.  It's a lot more than a shooter and makes the perfect liqueur coffee when poured over crushed ice.
You simply can't go wrong with a Melktert or two!
We all love the novelty of ordering a "Jam Jar" at our local watering hole and now with Cornwall's Jammy Jars, you can serve them at home too. Simply pop them in the fridge and serve them cold.
I got to try The Perky Pina and Manic Mango. Packaged in the traditional 330ml Jam Jar, with a funky body and top label, these are the real deal.  I followed the recommend instructions and had the first one straight from the Jammy and the put crushed ice in the second.
The Perky Pina is alive with flavour and for anyone who likes the classic Pina Colada, you are going to fall in love with this one. I was always going to love the Manic Mango and both of these are really refreshing and perfect for a hot summers day.
The label sums up these to perfection when first it says, "The urban definition of Jammy is… flukey, lucky, defying probability with outrageous good fortune."
I can highly recommend Cornwall for your food and beverage needs. Visit their website, www.cornwallsa.com to view their full range. Cornwall SA rocks and you simply NEED to try their astonishing, high-quality products!