There are certain institutions in Cape Town that need to be experienced at least once in a lifetime. Like the Waterfront. Table Mountain. Kirstenbosch. An afternoon high tea at the Belmond Mount Nelson Hotel. I can't believe I'm all grown up and have not taken the time to indulge in this special affair. A truly unique experience that brings together all the elements of a happy life.
Introduction
It was a special birthday celebration that brought our little family together at the foot of the Belmond Mount Nelson hotel on gorgeous Sunday afternoon. Feeling all glamorous in our smart clothes, it's a special kind of feeling to have an occasion to dress up for.
I've never allowed myself the indulgence of an afternoon high tea and to say that I was excited was a complete understatement. A quick internet search for high tea venues in Cape Town will soon reveal that the Mount Nelson is the beauty queen of this fancy soiree. The idea of cake, tea and cucumber sandwiches left me daydreaming for the rest of the long week before Sunday eventually rolled around.
The Venue
The afternoon tea is served in the impressive Lounge and interleading patio area, which, on a warm summer's day, extends even further into an outside deck overlooking the gardens. For this occasion, we booked a bright, sunny spot on the enclosed patio, out of the direct hustle and bustle of the cake tables in the main Lounge. The patio has a wonderfully tropical conservatory vibe, with contemporary accents of green and gold. A beautiful fireplace and feature wall welcomes you warmly into the airy space, and invites you to linger a bit longer to marvel at the sheer beauty of the venue.
I expected everything to feel a lot more formal, but even though the décor was classically understated and luxurious, the atmosphere was relaxed and friendly.
The Experience
Even before I get to the food – I should mention that the staff is exceptional. They have bright smiles, friendly words, are very knowledgeable and incredibly accommodating, even when asked to take family photos with my oversized DSLR camera. They make you feel at ease, but also completely spoilt and pampered at the same time.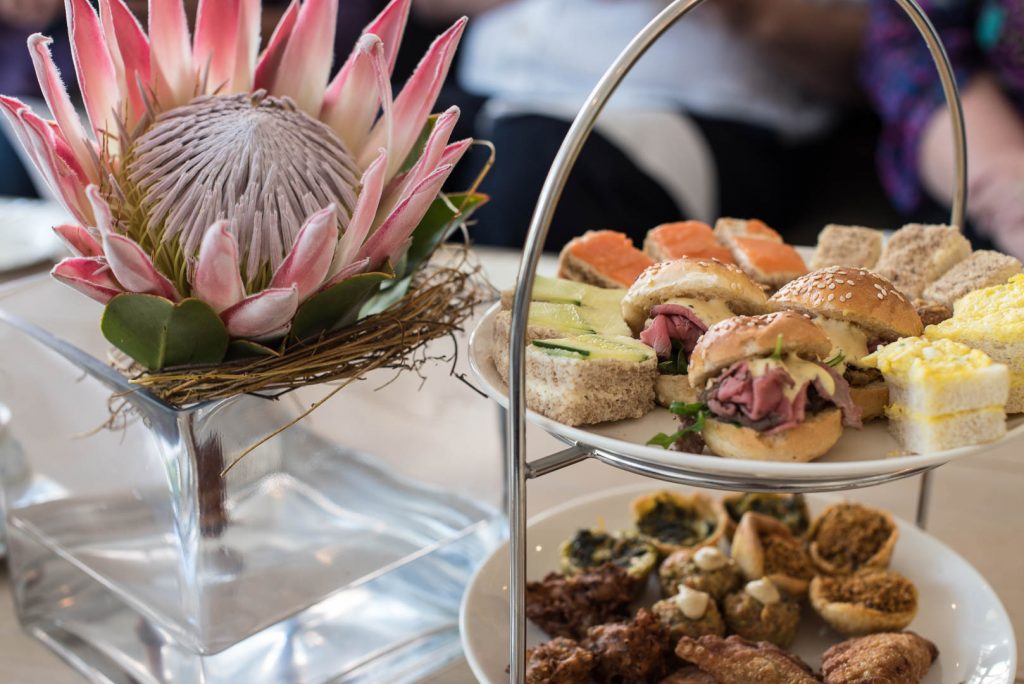 After a round of introductions and general chit-chat, our waiter enthusiastically talked us through the menu and tea selection, and helped us in choosing just the right variety of teas for all our tastes.
We started this food affair with an assortment of beautiful sandwiches and savoury bites. Each mouthful was the perfect combination of flavours, carefully put together in innovative ways, without losing the classic elegance of high tea treats. I absolutely loved the salmon and cream cheese sandwiches, as well as the rare roast beef buns. There was plenty of food to go around, and we found ourselves reaching for just one more morsel long after we had our fill.
At this point the tea arrived. I love the ritual of preparing and drinking tea. There's few rewards in this life that equals a beautiful cup of tea made in a beautiful teapot, drunk from a beautiful cup and saucer. There is something so nurturing about warm tea. Served in delicate glass teapots, the teas were fragrant and aromatic and we all sat back for a couple of minutes savouring the quiet togetherness of the moment.
Our waiter returned with a basket of oven fresh scones and jam, still steaming as he unwrapped them from the cloth. He talked us through the sweets available in the Lounge and left us to enjoy and indulge for the rest of the afternoon.
The sweet tables were out of this world. I circled them several times, mentally bookmarking my favourite treats, only to change my mind a few minutes later. I decided I'll just have to taste one of each, but that was a challenge not even The Little Hedonist could possibly take on for the selection was vast and the temptation very high.
Everything was fresh and in abundance. From min-cakes to sweets to macarons and Turkish delight. The plates and bowls were full and replenished often. It was beautifully presented and a feast for the eyes, too. It was an absolute delight to place dainty little artworks on my plate time and time again, because let's face it; I did go back a few times for more!
The birthday girl even got a special plated dessert from the chef, which made her birthday even more special. She was absolutely thrilled with her personalised treat.
Conclusion
We never felt we overstayed our welcome. We ate leisurely, sipped tea at our own time and laughed for hours whilst surrounded by such beauty and elegance. We took our time discussing the cake pops, marvelling at the black macarons, swooning over the carrot cake. We excitedly compared and recommended and poured even more tea.
It was an afternoon affair to remember, and one I hope to repeat soon. I was pleasantly surprised that an afternoon tea at the Mount Nelson is not an exclusive event. It's a family gathering; bring the kids, bring the grandparents, spoil a loved one. There is space and delicacies for all. For an afternoon you can get lost in pure indulgence and heavenly delights and leave with an invigorated soul and a very content heart.