Have you even had a South African December holiday if you didn't spend it at the coast? With the countdown to the holiday season feeling within reach, consider Sun International's breathtakingly beautiful four-star rated Wild Coast Sun as the ultimate family destination.
Flanked by ocean, river, lagoon and 750 hectares of lush indigenous bush, and boasting a large water park, games area for children, an 18-hole golf course, casino and range of restaurants, Wild Coast Sun is ideal for fun-seekers of all ages.
If its adventure you're looking for, Wild Coast Sun has it in spades of all kinds – from the Ace of Spades inside the casino for over 18s, to trowels for the kiddies to dig sand at the seaside.
"Whether you want the thrill of deep-sea fishing, rock, surf, fly or spear fishing, we cater for all types of marine enthusiasts," said Peter Tshidi, Wild Coast Sun General Manager. Other water activities include scuba diving, while at the Mtamvuna River, visitors can try paddle-boating, canoeing or sip a sundowner on a river cruise.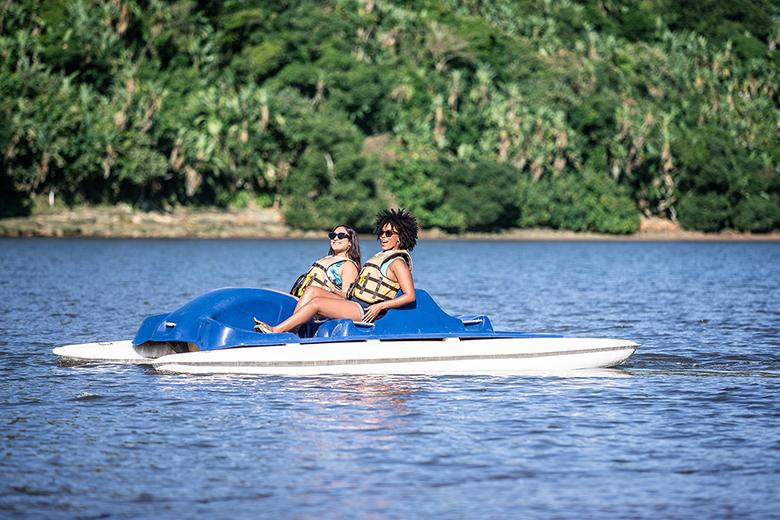 "Let the kids burn off some energy while hunting shipwrecks with a walk along our sandy blue-flag beaches, which look like the postcards you'll send home from your holidays." Raise your heart rate with a hiking trail through coastal forests or climb aboard a trusty steed for a trot along the shore on horseback. "If you prefer your transport motorised, we also offer Segway tours from age 10 and up and quad bike tours through the wilderness, drivers must be 16 years, and younger passengers can hitch on the back," Tshidi said.
For those less inclined to leave their pool loungers, Wild Coast Sun has a choice of three swimming pools to keep the kids happy while mom catches up on her beach read – a rim flow outdoor pool facing the Indian Ocean, a kids' pool and an indoor pool in the solarium.
Enjoy a casual al fresco poolside lunch at Malto's, offering the flavours of Greece, before seeking solace from the sun at Mangwanani African Day Spa, which also offers a special kiddies treatment menu in a designated area of the waterpark for little ones.
The AquaPlay area's slides will keep youngsters safely entertained for hours. On rainy days, the Magic Company and Cosmic Bowling offer indoor entertainment in the Aloha Village, including the first indoor Skypark in South Africa, which offers 21 rope obstacles on a skytrail and skyrail.
"The Wild Waves Water Park is a huge drawcard for Wild Coast Sun, both for our guests as well as day visitors who come for the thrill of some of the world's best water rides." Choose from a gentle Lazy River tube experience, to fast paced, heart-pounding body slides, tube rides and flume experiences.
Wild Coast Sun also has BreakOut Games, an obstacle challenge game that requires players to solves a series of puzzles and problems before being eligible to escape a locked room – children under three can accompany for free, if parents feel like an extra challenge with a toddler in the room with them.
"Wild Coast Sun has so much to offer, without even looking outside of the Resort's gates which open to a paradise of activities such as Beaver Creek Coffee Farm and The Mac Banana Estate. Give yourself a break from hearing 'I'm bored' and let our team keep your kids busy in the school holidays," Tshidi finished.
Earlier this year, Wild Coast Sun was honoured in the 14th annual Luxury Lifestyle Awards category as the 'Best Luxury Beach Resort in South Africa' – and it is not hard to see why.
Some December highlights include:
Christmas tree and decoration lighting ceremony, 01 December 2023 in and around reception
Gin festival on Saturday, 16 December at the roof top parking.
Beach activations from 16 December onwards.
Children entertainment at the Wild Waves Water Park on alternative days.
Christmas carols on Christmas Eve, 24 December in the hotel reception.
Christmas eve dinner at Chico's, starting from 18h00.
Christmas lunch and New Year's Eve buffets in the Conference facility.
Ring in the New Year in style with our New Year's Eve party, with music and entertainment galore and a firework display on the beach – build up starts at 20h00
* Finer details to be confirmed closer to the time