Mother & Son duo Stella & Jeff posted a respectable score of 61/100 as the first pair from Table 2 to cook on season 3 of My Kitchen Rules SA, after being let down by some technical errors and J'Something's bugbear – cold plates.
They presented a starter of Spinach & Ricotta Ravioli with burnt butter sauce, a main of Deconstructed Mediterranean Lamb Shank with Potato Mash and a 'For the Love of Reggie' dessert – a Mascarpone, Ricotta & Dark Chocolate Cheesecake, named for Stella's late father.
Their Instant Restaurant – 'On The Wild Side' – aimed to recreate the feeling of a laid-back, relaxing bush dinner in a nod to the family's annual holiday trips to the Kruger National Park.
Their energy in the kitchen was positive, with plenty of banter as Stella used the time it took to knead the pasta dough to do some prayer and meditation, warning Jeff to be wary of the sharp knives. After jokingly declaring that he was an adult and knew how to use a knife, he promptly nicked a finger while slicing some onions.
As the other four new duos arrived at On The Wild Side, they were welcomed with drinks and plenty of enthusiasm and instantly embraced the safari vibe.
In revealing their menu to the contestants and Judges, Stella told the story of how she heads into the kitchen as a way of dealing with the grief of her father's murder, visibly moving several of the other contestants.
As they headed back to the kitchen, the rest of Table 2 got to know each other, with Izak impressing everyone with the fact that he'd acquired an MBA in Food & Wine in Italy and Lesego feeling the competitive spirit in well-travelled Mother & Daughter pair Bernadette & Shaleeni.
When the starter arrived after a brief pasta-rolling emergency in the kitchen, David praised the burnt butter sauce – prepared by Jeff from a recipe he perfected under lockdown – for its beautiful nutty flavours. J'Something enjoyed it, but said that serving it in a warm bowl and adding a dash of acidity would have made him love, rather than like it.
Shaleeni whispered to Bernadette that it had no flavour, with Nadia declaring it 'very rich'. Lesego found it 'underwhelming' after tasting more spinach than ricotta and KB said it wasn't something she'd order in a restaurant.
David had questioned how the main would be 'deconstructed' when he and J'Something reviewed the menu and he was left unmoved by the meat simply having been removed from the bone and balanced atop a swirl of mash. "Can you overcook lamb shank?" he asked. "You can – and you did". J'Something loved the spicing but was again disappointed by a cold plate and a lack of acidity, which he felt would have transformed the dish completely.
Izak was left disappointed by the lack of creativity in the plating and Wessel wasn't sure they'd succeeded with the deconstruction. Shaleeni and Bernadette agreed that the flavours were more Middle-Eastern than Mediterranean, but Lebo thought it lacked flavour and missed some vegetables.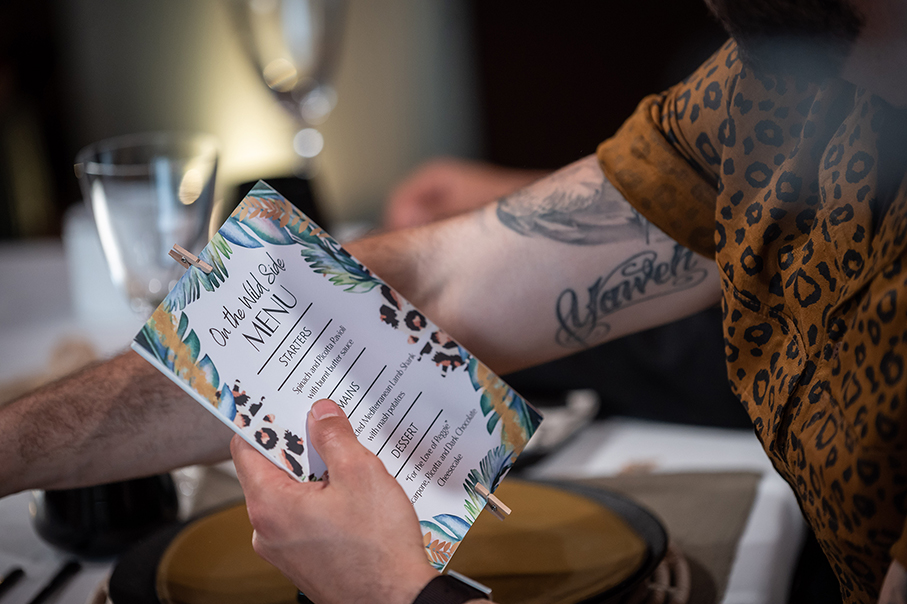 The dessert inspired some debate before it even arrived, with the contestants unsurprisingly divided into 'fridge' vs 'baked' cheesecake camps. Noting J'Something's criticism of a lack of acidity in both starter and main, Stella added orange segments to the plate just before serving.
David loved the presentation and said he could see the love in it. "The problem with ricotta and mascarpone is that they're light in flavour, so once you add dark chocolate and citrus, you can't taste the cheese," he said. Noting the citrus zest and orange segments in the dish, J'Something said he actually found it quite bitter and thought they could have toned the zingy elements, down.
Wessel thought the smell and taste were wonderfully evocative and said it was great that Stella could make something which would bring back fond memories of her Dad. Shaleeni – firmly in camp 'fridge' – said that the texture of the baked cheesecake was ok, but that the ricotta was 'weird'. Wessel also struggled with the texture, as did Nadia, who found it 'off-putting'.
At scoring time, all four duos awarded Stella & Jeff 6/10, giving them a sub-total of 24/40. David scored the starter a 7 (the proportion of the filling to pasta being a bit off), the main a 6 (the main sin being a lack of veg) and dessert a 5 (with the flavours all having to be considered more carefully). J'Something said that if the starter had been served on a hot plate with a splash of lemon, he may have given them a 10 – instead, he scored them an 8. The main scored a 6 because although it was warm and hearty, it lacked colour and the dessert suffered from imbalance, drawing it a 5.
Their total of 37/60 pushed Stella & Jeff's total to 61/100 – and they'll have to wait until next week when 'Slay Sisters' Lebo and Lesego take to the MKRSA kitchen, to see how their score stacks up.
My Kitchen Rules SA is available on DStv Premium on M-Net (Channel 101) every Sunday at 6pm as well as live streamed on the DStv App, and on DStv Catch up through the DStv App or DStv Explora. Visit the M-Net Website for exclusive show content and join the conversation on Twitter, Instagram and Facebook, using #MKRSA and #mnet101.