Exclusive Books have warming reads of fiction plus non-fiction, young adult and children's titles on the recommended reading list for June – available instore at one of their 42 branches, online, phone and Uber Eats!
"The EB Recommends selection for June is dominated by the much-awaited Finding Me, by Viola Davis. Viola's piercing and unforgettable Oprah interview has set in motion even more interest in this trailblazing black actress, and readers are chomping at the bit for this book release. It's going to be huge." – Batya Bricker – Exclusive Books Marketing, Loyalty and Procurement – General Manager

Exclusive Books recommended titles are merchandised in front of all their stores every month and are carefully curated in different categories. The aim is to assist customers to see at a glance, and in a short space of time, titles that are new, trending and have caught the eyes of the Exclusive Books buyers in among 1000's and 1000's of titles. There are choices for all genre tastes, and now the dedicated EBR for children will offer an even wider and deeper rage for younger readers.
All titles are presented on dedicated Exclusive Books Recommends display units where the books are grouped together with shelf talkers in-store for the entire month of the promotion. Fanatics members also earn a whopping 200 bonus points on their purchases from the list during June.
There are 13 Fiction titles in June. In The Murders at Fleat House by Lucinda Riley the sudden death of a pupil in Fleat House at St Stephen's – a small private boarding school in deepest Norfolk – is a shocking event that the headmaster is very keen to call a tragic accident. But the local police cannot rule out foul play and the case prompts the return of high-flying Detective Inspector Jazmine 'Jazz' Hunter to the force. At once heartbreaking and uplifting, and its focus on the themes of war and loss, love and friendship across cultures is both topical and timeless: The Long Road from Kandahar by Sara MacDonald is a powerful story from a writer operating at the height of her powers.
Welcome to Turtle Cove – a luxury resort. Couples Lou and Adam, Eliza and Noah, spend a few days relaxing on the beach, while their kids are happily distracted. But appearances can be deceiving…The Cove by Alice Clark-Platts is a first-class, escapist thriller. Meet Yinka. And Yinka's mum. And Yinka's aunties. Who are all asking… 'YINKA, WHERE IS YOUR HUZBAND?' by Lizzie Damilola Blackburn is hilarious and wildly entertaining, this tale of love, culture, family and friendship will have you rooting hard for Yinka! In My Name is Yip by Paddy Crewe, one October night in the small town of Heron's Creek, Georgia, Yip Tolroy is born. His father has disappeared in mysterious circumstances, so he is raised by his mother. By the time Yip reaches his fifteenth year he has not spoken a word – he is mute, friendless, an outcast. But his life is about to change irrevocably.

Dark, strange, thick with mystery and twists Book of Night is everything delicious and frightening as one has come to expect from Holly Black. Elizabeth Finch by Julian Barnes is more than a novel. It's a loving tribute to philosophy, a careful evaluation of history, an invitation to think for ourselves. It's a moment to reflect and to gently explore our own theories and assumptions. It is truly a balm for our times. Blood Sugar by is the story of Ruby – a Dexter- like figure who commits her first murder aged five. This book has some incredibly inventive methods of death! Entirely original and utterly brilliant – a must-read. Memphis by Sascha Rothchild is a celebration of the enduring strength of female bonds, of what we pass down, from mother to daughter. Epic in scope yet intimate in detail, it is a vivid portrait of three generations of a Southern black family, as well as an ode to the city they call home.

Vivid and meticulous, Katie Munnik's The Aerialists captures the tangled desires of people living on the thin air of their own daring – a glorious vision of a time, a place, a welter of human manipulations and hopes, and ultimately, their tragic effects. A really fine read. As tender as it is unflinching, Trespasses by Louise Kennedy is a masterfully executed and intimate portrait of those caught between the warring realms of the personal and political, rooted in a turbulent and brutally imagined moment of history – where it's not just what you do that matters, but what you are. In Wild And Wicked Things author Francesca May tells the story of how on Crow Island, people whispered about real magic that lurked just below the surface. But Annie Mason never expected her enigmatic new neighbour to be a witch. When she witnesses a confrontation between her best friend Bea and the infamous Emmeline Delacroix at one of Emmeline's extravagantly illicit parties, Annie is drawn into a world where magic can buy what money cannot; a world where the consequence of a forbidden blood bargain might be death. Bot deur Carien Smith is n' ambisieuse bundel word die leser op reis geneem. Na werelde van verstommende – dog onmiddellik herkenbare – tegnologiese vooruitgang. Bot is 'n verrassende debuut wat 'n eiesoortige staanplek in die Afrikaanse verhalewereld kry.

There are 13 non-fiction titles for June. With Don't Worry by Shunmyo Masuno , you will learn how to: Focus on the here and now. Improve your most important relationships. Take a step back from your worries. Regain control of your thoughts. Learn ways to accept yourself as you are. By following these simple steps, you can enjoy a calmer, more relaxed, positive version of yourself. It is true: heartache, grief, suffering, obstacles, they all come in waves. There is no controlling life's storms; there is only learning the way to walk through the waves. In WayMaker, Ann Voskamp hands us a map that makes meaning of life, that shows the way through to the places we've only dreamed of reaching, by a way we never expected.
New History of South Africa, also in Afrikaans, is the newly updated, comprehensive history of South Africa presenting the story of our turbulent country in a fresh, readable narrative. Grippingly retold by leading historians and other scholars under the editorship of Hermann Giliomee, Bernard Mbenga and Bill Nasson, New History of South Africa starts with recent discoveries about the origin of humanity in Africa. Trust and Inspire by Stephen M. R. Covey is a simple yet radical shift in how business must be done in the 21st century and an expansive, visionary, and inviting guide to the future of leadership.

Creating consistent happiness is a daily journey. In You, Happier, Dr Daniel G Amen walks you through neuroscience-based habits, rituals, and choices that will boost your mood and help you live each day with clearly defined values, purpose, and goals. "I can say with certainty that this man saved my life. He made life worth living. But most importantly, he empowered me to find and reclaim myself again" —Lady Gaga quotes about the book Trauma: The Invisible Epidemic by Dr Paul Conti. Africa Is Not A Country by Dipo Faloyin brings the story of the continent towards reality, celebrating the energy and fabric of its different cultures and communities in a way that has never been done before.
In On The Rocks thirty-nine-year-old author Thando Pato is living in total denial about her drinking. On the surface her life looks aspirational – great job, apartment, snazzy car. But behind the facade she harbours a shameful secret – she can't control her drinking. Bulelani Ngcuka: The Sting in the Tale by Marion Sparg is a first-hand account of our most recent legal and political history. It is also an intriguing story about political manoeuvrings, bombings and hijackings, urban-terror and "whispering" campaigns, lies, murder, alleged spies, intrigue, family, and love.

This searingly observant illustrated history of the women of Crossroads by Koni Benson during the 1970s and 1980s tells a history of past and present organised resistance movements led by black women. "Finding Me is a deep reflection on my past and a promise for my future. My hope is that my story will inspire you to light up your own life with creative expression and rediscover who you were before the world put a label on you." —Viola Davis. My Fourth Time, We Drowned by Sally Hayden follows the shocking experiences of refugees seeking sanctuary, but it also surveys the bigger picture: the negligence of NGOs and corruption within the United Nations. The economics of the twenty-first-century slave trade and the EU's bankrolling of Libyan militias.

Obsessive, Intrusive, Magical Thinking is a culmination of a life spend obsessing, offering a glimpse into author Marianne Eloise's brain, but also an insight into the lives of others like her. From death to Medusa, to Disneyland  to fire, to LA to her dog, the essays explore the intersection of neurodivergence, fixation and disorder, telling the story of one life underpinned and ultimately made whole by obsession. In a career spanning Procter & Gamble, Nando's, Diageo, Boston Consulting Group, Vodacom and General Electric in South Africa, the UK and Uganda, author Nyimpini Mabunda shows why he strives for continuous and active improvement of his business acumen and leadership skills in the book Take Charge. In Tapestries of Life, Anne Sverdrup-Thygeson explains how closely we are all connected with the natural world, highlighting our indelible link with nature's finely knit system and our everyday lives.
EB recommends for children
"To build on the popularity of EB Recommends, and to enhance our offering in children's books, we are launching Exclusive Books Recommends for children. This will offer all the benefits we have seen in adult books – a curated list, a customer quick reference, Fanatics points, and inside info on the best books for young readers. Each month, the EBR kids will be published, and will receive the same attention we give to adults EBR – through newsletters, online, publicity, Fanatics, social media and instore display." – Batya Bricker – Exclusive Books Marketing, Loyalty and Procurement – General Manager.
There are three titles in the 6-9 children's category. The InvestiGators by John Patrick Green are the best crime-fighting duo in the world. But not even their hi-tech training programs can prepare them for the return of their greatest nemesis, Crackerdile, in a shocking new form! Even worse, he's creating a team of super villains! Faced with the choice between saving themselves or catching the crooks, can Mango and Brash make sure the gator good prevails? In JUDY MOODY 16: IN A MONDAY MOOD by Megan McDonald Judy Moody is Monday-morning mopey. Another week in her same-old seat at her same-old desk in her same-old school.
Even worse, there aren't any days off from school for ages. But when she steps into Class 3T, Judy's Monday frown turns upside down. Asterix 39 & Griffin by Jean-Yves Ferri follows the story of the half-eagle, half-lion creature, idolised and feared by ancient peoples, is the griffin. How will Asterix, Obelix, Dogamatix, along with the Druid Getafix, get drawn into the epic, perilous quest to find this fantastical animal?

There are 3 titles in the 10 – 12 age category. The Thief Who Sang Storms has themes of grief, trust, love, and that we have more in common than that which divides us, is a heartfelt book filled with adventure and stunning storytelling from bestselling Sophie Anderson. Since the occupation of Crimea in 2014, Ukrainian families with children have had to live their daily lives in the shadow of the threat of war. Maja and her Friends by Larysa Denysenko tells the story of ordinary Ukrainian children and their families. In Code Name Bananas by David Walliam,s Britain is at war with Nazi Germany. Eleven-year-old Eric spends his days at the place that makes him most happy: London Zoo. And there's one animal in particular he loves: Gertrude the gorilla. With bombs falling all over London, Eric must rescue Gertrude.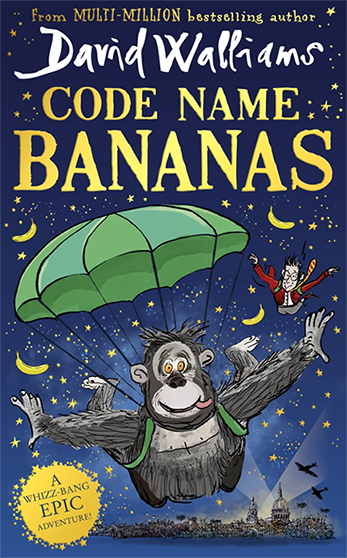 There are three Picture Books for June. The Tale Peter Rabbit by Beatrix Potter has been an icon of children's literature, starring in everything from books to toys to films! This original tale sees Peter at his most adventurous, cheekiest and lovable self as he wriggles into Mr. McGregor's garden – and into reader's hearts. The Woolly Bear Caterpillar by Julia Donaldson is brilliantly written and stunningly illustrated. This engaging picture book comes complete with a non-fiction mini book about caterpillars and moths written by a nature specialist. Did you know that marine iguanas sneeze out salty sea water after a big swim? Or that a narwhal's tusk is actually a very, VERY long tooth? And did you know that dung beetles are the STRONGEST animals on earth? Explore a different habitat on every spread, with fun and vibrant illustrations and fact-filled text for intrepid adventurers who want to know EVERYTHING about the world we live in, in Matt Robertson's Do You Love Exploring?

The last 9 titles are Teens and YA. Children of the Flying City by author Jason Sheehan tells the story of orphan Milo Quick who was brought to the flying city of Highgate when he was only five years old, and has never known another home. Now almost thirteen, Milo survives one daredevil grift at a time, relying only on his wit, speed, and best friends Jules and Dagda. In Die Sproetebessies en die hart van die Swart Roos deur Troula Goosen, Milan, Andante en Nova gaan na 'n musiekfees om die beroemde popster, Tyrion, te sien optree, maar daar wag 'n groter avontuur . . . Milan beland op die verhoog saam met die Kaalbas Kitare en uit die bloute ontvang hulle 'n uitnodiging om 'n slypskool by te woon by 'n eksklusiewe superster-akademie. Joey King quotes about The In Between by Marc Klein "This story and Marc had such a big impact on me. Somehow my heart breaks and swells all at the same time while reading this. A powerful telling of love and loss." In The Sisters of Straygarden Place by Hayley Chewins, the Ballastian sisters' parents left them in the magical Straygarden Place Seven years ago, in a house surrounded by tall silver grass and floating trees.
They left behind a warning saying never to leave the house or go into the grass. Until one day, when the eldest, fourteen-year-old Winnow, does the unthinkable and goes outside in the grass, and everything twelve-year-old Mayhap thought she knew about her home, her family, and even herself starts to unravel., a house surrounded by tall silver grass and floating trees. They left behind a warning saying never to leave the house or go into the grass. Until one day, when the eldest, fourteen-year-old Winnow, does the unthinkable and goes outside in the grass, and everything twelve-year-old Mayhap thought she knew about her home, her family, and even herself starts to unravel. Raise your hand if you've been personally victimised by this funny, weird, razor-sharp, intensely compassionate, subversive, sweet, electrifyingly romantic knockout of a book. Casey freaking McQuiston, you've done it again in I Kissed Shara Wheeler.

Chain of Iron The Last Hours by Cassandra Clare, Cordelia Carstairs seems to have everything she ever wanted. She's engaged to marry James Herondale, the boy she has loved since childhood. She has a new life in London with her best friend Lucie Herondale and James's charming companions, the Merry Thieves. But the truth is far grimmer. James and Cordelia's marriage is a lie, arranged to save Cordelia's reputation. Family of Liars by E.Lockhart returns to the story of another summer, another generation, and the secrets that will haunt them for decades to come. A windswept private island off the coast of Massachusetts. A hungry ocean, churning with secrets and sorrow.
A fiery, addicted heiress. An irresistible, unpredictable boy. A summer of unforgivable betrayal and terrible mistakes. Welcome back to the Sinclair family. They were always liars. In Skulduggery Pleasant 15 Until End by Derek Landy the Faceless Ones have returned to our universe. The bad guys have won. With the end of everything just days away – and no longer able to rely on Valkyrie Cain – Skulduggery must make allies of enemies if he's going to stand any chance of saving what's left of the world. In Mixtape van die Liefde met Anjie Krog die bundel gedigte verken die verskillende dimensies van die liefde: Verliefdheid, liefde in gesinsverband, liefde en hartseer, liefde en woede en liefde wat verder reik. Die hele spraakgemeenskap van Afrikaans is verteenwoordig in die bundel: Van ons ouer digters soos Totius, Boerneef, Eybers tot opwindende nuwe stemme soos Ashwin Arendse, Bibi Slippers, Nathan Trantraal, om net 'n paar uit te lig.