"Here's to Home" sees you and Leo, your partner, transform your home into your "ultimate dream home", what is your definition of the ultimate team home?
Comfort and convenience is the ultimate dream home, I really think that by taking your time with what your home space looks like, as it can truly altar your everyday energy. It's really all about what makes you feel good and how can you bring your personality and authenticity with it. I would not say that this home is an ultimate dream home for us, however, it is a creators dream home. We really see such beautiful potential in property and by taking this property on, we are setting the bar for all our future homes to come. Our dream is to have 10 properties by the time we are 50 and that gives us 20 years.
How long have you and Leo been together and what it the look and feel you hope to achieve when it comes to the renovations in your home?
We have been together for 4 years, it's really magnificent how both of our styles have actually just synced together. We both have the exact same taste and the greatest part is if you are dating your bestfriend it becomes more about the experience than what we want it to look like. A good partnership can create a very comfortable living space. We really hope to achieve the aesthetics we have been longing for all this time. Minimal, luxurious, angelic, crisp, clean and spacious. These are elements we are looking for and we have such incredible brands working with us.
How did you come up with the name, "Here's to Home"?
The name was derived from Builders Warehouse original digital marketing strategy, their 'Here's to Home' campaigns across the country has been remarkable and significant. We have worked with the brand before and when they found out we just bought a home, they did everything in their power to make sure they were with us every step of the way. It almost feels like raising a champagne glass and celebrating a monumental moment when you think of 'Heres to Home'
When did you first become a homeowner and what makes this campaign so unique?
This would actually be our first property, it took a very long time get to the stage of purchasing. However, we knew it was the right time and we always knew we wanted to build a life together. I guess this is as close to marriage and a commitment that the public is about to get at the moment. Our dream wedding is going to take us a couple more years of putting things together, so we thought we should buy a home together already to solidify this beautiful partnership between us. I believe what makes the campaign so unique is that we have such incredible brands working with us. Builders Warehouse being one of the main brands, Blueberry Hill Farm who is doing our terrace and our gardens and Burewa Projects who will be doing all of our renovations going forward. Each of them have been spectacular and are really ready to showcase great quality work. Its truly important for us to aid South Africa's community with more work, we kept the contractors close to home and went through a couple before we found our dream team.
We really wanted people to have the same vision as us, Dylin from Burewa Projects is truly an articulate genius and Phillip from Blueberry Hills has the best green fingers in the country. Leo loves a good garden, so I am sure he is ecstatic.
One of your aims is to get out of their scarcity mindset and dive into the excitement of becoming homeowners – why is this important to you?
Its important to empower yourself, to take risks, to jump, to leap into the unknown to figure out what your options are. I really would love to showcase to our fans the truth behind purchasing a home and also be honest and upfront about it. There are so many pro's that outweigh the cons when becoming a homeowner. The time is now. Its time to take up space and solidify our legacies and that's what I really want to showcase. I never really understood my elders when they told me that paying rent every month was such a waste of money, but now that I have paid my last month of rent to someone elses bond and my hard earned money is going into something I own. The feeling is absolutely indescribable. Its magic.
You're all about "creating home spaces for everyone to enjoy" – how is this showcased through the campaign?
Our home is truly about entertainment. We have thought of every single opportunity to make sure that we have options to entertain. We have Blueberry Hill creating this authentic New York Style Vegetable Garden Terrace on the roof, with a bar for sundowners after work. Burewa Projects really diving deep into opening our lounge and creating a beautiful deck to entertain in an incredible garden, Dylin has really given us incredible ideas of how to maximize space and really get the best out of your efforts. A library, a boma, a vegetable garden, a patio deck and a stacking door entrance screams 'INVITE US' more than anything else. We want our home to be a family home, with our beautiful dogs and our incredible family. We want to entertain, have people enjoy our space and make incredible memories.
The most important part is that we work from home, so creating this space has really been about entertaining ourselves and how can we project that into our friends and family.
With the campaign happening over a period of 5 months, how have you broken up the renovation schedule?
Well, we first starting with our vegetable garden (You never want to miss the beautiful sunshine that can bring growth ). Then moving into our kitchen and stacking door entrance, redoing all of our floors and bathrooms with a really white and neutral aesthetic and then finishing off with our patio deck and dressing room just at the end. We have managed to spread it pretty wide, it's definitely a celebration of Here's to Home. We plan to spend our festive season with DIY projects, matching aesthetics, building more convenience spaces and truly putting our vision within the house before the new year creeps in. 2022 is really all about growth, love and abundance.
The campaign so cleverly includes educational key messaging on all consumer based knowledge around owning property. What do you wish to educate the viewers on?
We want people to know why buying property is important, especially in South Africa at the moment. We also want to educate viewers on ways you can save when going through the process, there is so much that we didn't know that we only found out later on. Moving around in the property industry is such a daunting experience and we really hope we can rid people of their fear when it comes to this.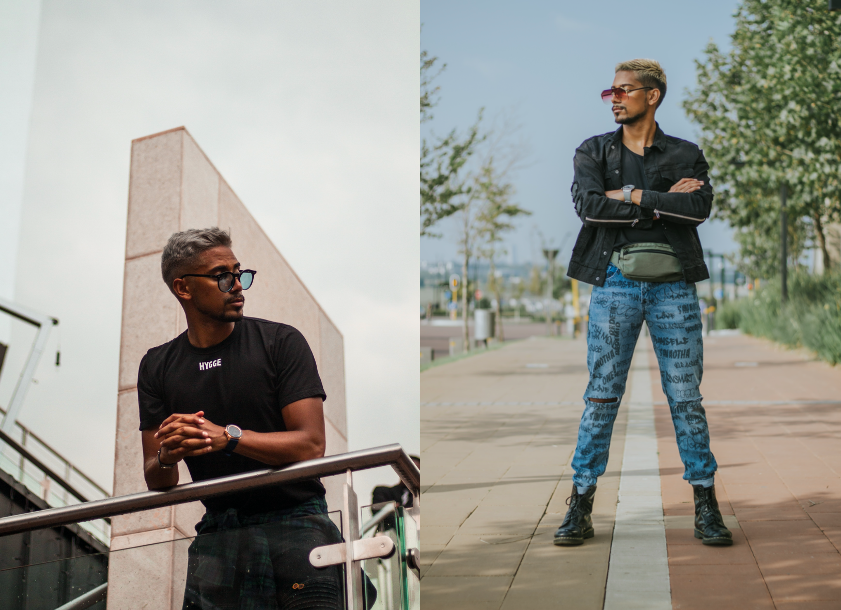 Define your current home decor style and what you hope to improve going forward in the campaign?
Minimal, Luxurious, Crisp, Neutral, Spacious and automatically pleasing to the eye. Myself & Leo have such a great eye for décor, we love white tones and neutrals throughout a house. We are obsessed with simplicity that showcases abundance. It's the minimalistic feel that we are looking for. Leo has such green fingers and that means nature is such a huge part of our home. A dedicated pantry section for grown herbs or different tea's, being able to cook incredible meals from our vegetable garden upstairs on the terrace. What I have really done is actually start to look around for the idea's I'd like to achieve around the house, jotting them down and then taking my time to source what I am looking for. We want people to walk into our home and feel like they just drank hot cup of chamomile tea. Serenity is everything.
As someone who works from home, why is it important to have a comfortable office space dedicated to work and business?
Let me tell you, a space can breed results. Even now in our current apartment, I find myself going to the cutest coffee shops around just to take a little breather because sometimes space can be so overbearing if it's not what you want. Your environment can honestly catapult how you act and go about your day. If the energy of your house is nothing short of luxurious, I am almost 100 percent sure that when I wake up everyday I will try to mirror that energy within my business. Your home space is identical to manifestation, energy goes where energy flows. I believe our new home is going to catapult both of our careers into abundance. We actually recently moved to our current apartment just for that, we wanted abundance and we wanted good energy. We have only been at our apartment for a year, however that apartment has truly taken us to new heights and we talk about it all the time.
What exciting elements can we expect from the campaign going forward over the next 5 month?
A farm to table experience of growing your own vegetables from your garden, champagne evenings from the bar on our terrace, late night fire stories around the boma, sunday cocktails on the deck and true showcase as to why its okay to be home for the holidays. We will definitely make you miss the comfort of your own home. That's for sure. Beach or no beach.
You've partnered up with some amazing brands, tell us more about these?
Builders Warehouse is one of them as Ive mentioned before, Burewa Projects who is taking the entire renovation under their hands and Blueberry Hill Farms who is really giving us that New York Style terrace vegetable garden that we have been dreaming of. We also have LG coming on board to smart out our home with all of their appliances – they have an incredible new ThinQ range that works so well with our place. The rest of the brands I am going to keep a secret for now. I want a wow factor when you guys see what we are going to do. This is such a special project for us and we are so excited.
When does the campaign kick off?
We kick off in the second week of October and everyone will be able to see updates weekly.
Where will the campaign be showcased?
You can find the entire campaign on all of our brands digital pages, our own social media pages and our YouTube channel. The content we are going to be serving will need a drink.
Follow his journey:
https://www.instagram.com/mrkyleclark/