It's Getting Hotter and Hotter as Minnie and Tea leave My Kitchen Rules SA.

Although these two Durban-based besties' dish didn't sit well with the judges, they will be most remembered on My Kitchen Rules SA for their bubbly personalities.

This week, we take a look back at their journey through the competition.
The Interview: Minnie and Tee
You met each other on another TV show? Tell us about this chance meeting.

Minnie: We met on South African Idols, season 13 that just launched. We met at theatre week and then in the showdown, we shared a room.

Is that where your friendship began to blossom?

Tee: Yes. After Idols we were inseparable.

You both seem to be fond of using Aromat in your dishes. Which other ingredients can always be found in your pantry?

Minnie: Garlic is like number one!

Tee: Garlic and butter. They always make things taste better.

Your approach to the competition was to use your instinct as strategy. How did this work in your favour throughout your MKRSA journey?

Minnie: We realised we didn't have as many culinary skills as everyone else but we turned this into a strength. So when we were given the challenges, we would literally use our gut and our instincts to direct us and it helped us survive.
From the Instant Restaurants right through to when we were eliminated. We don't regret anything because of us being able to follow our instincts.
Did your time on MKRSA impact your friendship in any way?
Tee: Big time. BIG TIME! But we survived everything and it made us stronger in the end. We understand each other a lot more and we can now communicate without even talking. That's how powerful it was.
Are there any friendships from the MKRSA kitchen which were memorable to you?
Minnie: Oh yes, of course. We were close to the sisters. We called ourselves The Four Cousins. Then there was Jalal and Adrie who we called the Mom and Dad. Kim and Pashi too. We had a rocky start with them but we left on a good note.
Tee: I love Donald!
My Kitchen Rules SA: Look Back
Tell us a bit more about the competition between the teams.

Minnie: Because it's a competition, I think they kicked us out because we were too good. Haha I think we just had to give the other teams a chance.

Which would you say was your most unique and special dish?

Tee: For me it has to be the chili that we made in Sudden Death against Dirk and Bahia. I think that's one memorable dish and experience we have together. It was a big challenge but we came back with a bang.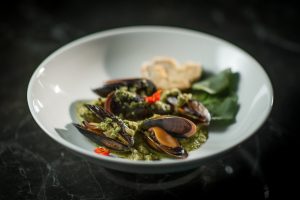 Who do you think in the MKRSA kitchen made the most memorable dish?

Minnie: Rox and Spoen's tripe.

Tee: For me it has to be Pashi's bunny chow, Sho!
How has your perspective around home cooking changed since the competition?

Minnie: We learned that cooking is not just cooking for people in your family. There's more to it. There's a science and a structure to it. You don't just throw things in a pot. You have to cook as if you're in a restaurant each and every time.

What was your best moment on MKRSA?

Minnie: Yoh, this is difficult! But it will have to be the first time walking into the MKRSA Headquaters.

Tee: In that moment we could say to each other we're here and we've arrived. It made us realise, that we're only eight spots away from winning R1 000 000.

Where to from MKRSA?

Minnie: To take over the world. Honestly, to just keep working and getting into commercial radio. Hopefully for us to get our own reality show – what the people were asking for.

Tee: To finish my degree and get a nice hot guy.


Saying Goodbye to My Kitchen Rules SA
Minnie and Tee were sad to leave but had a wonderful journey and brought an amazing energy to My Kitchen Rules SA.

Judge David said that he would never forget their Instant Restaurant, and thanked them for what they brought to My Kitchen Rules South Africa.

The Final Word
Said Minnie and Tee in parting: "We were the youngest couple, and we made it this far."
Next week, the teams find themselves in a conscious cooking challenge where the lowest-scoring teams will go into a Sudden Death round.
Don't miss the My Kitchen Rules SA Kitchen action…
Catch more episodes of the My Kitchen Rules SA on Sundays at 18:00.

Last week, Dirk and Bahia were the first say farewell to the set of My Kitchen Rules SA. See what happened.
For more news follow MKRSA on Instagram @MNet / #MKRSA or on the official M-Net Facebook page.