In an area about three hours away from the bustling city of Durban lies an oasis tucked away in the Southern Drakensberg. Lake Naverone is a collection of self-catering cottages perfect for escaping the constantly-connected rush of modern living. As one travels on the winding roads towards Underberg, they can feel their troubles floating away and evaporating with each pine tree forest they pass. It's like taking a mental deep breath, and letting go.
I have been lucky enough to visit Lake Naverone (fondly known as 'Lake Nav' by regular visitors and locals) twice this past festive season. My first visit took place one weekend in November, with just that two-night stay leaving me longing to return instantly. Thankfully, it was not long until I was able to visit my new-found sanctuary once more. Returning to Underberg for an end of year escape, my family and I had booked into accommodation that had professed much on their website, yet left much to be desired once we had arrived. In a leap of faith, we contacted the Lake Naverone reception, knowing that acquiring accommodation for the week was a long shot but utterly desperate to save our holiday. In no more than an hour, the friendly reception staff had organised for us to stay in four different cottages over the course of the week, which we eagerly accepted.  
As a result, I have stayed in cottages on either side of Lake Naverone, as well as in cottages alongside the smaller dam just below. The cottages are very cosy, each one offering something totally unique. The views from each cottage's veranda are magnificent, my favourite way to start my day being wrapped up in a blanket sipping on hot coffee watching the sunrise. Although the cottages are positioned alongside one another, they are arranged in such a way that ensures one's privacy as well as easy accessibility to the lake. Each cottage is equipped with electricity, a fully-equipped kitchen, plug points, a fireplace, braai facilities and even a row boat with oars to take out for a paddle on the lake or dam. The cottages are also serviced daily by the friendly cleaning staff with all linen and towels provided, ensuring extra time for one to kick back and relax. Furthermore, a free basket of firewood is provided daily with the option to purchase more from the reception which is open from 7:30AM-16:30PM during the week. Did somebody say s'mores?!
Although I appreciate being able to relax and do nothing on a holiday, I find that I need to do at least one active thing a day when I'm away to keep me from feeling lazy. At Lake Naverone, this is not difficult as there is just so much to do to keep one busy! From trout fishing, taking a boat for a paddle, hiking, walking, running, cycling, birdwatching, and even horse riding, it's impossible to be bored. Although each cottage is provided with a free row boat, residents are also welcome to bring their own canoes, float tubes, and sailing boats to use on the lake (with the exception to motorized varieties). My favourite activities during my stay included taking the peddle boat out on the lake; going on the wetlands walk, frolicking in the river along the way; and doing the Three Pools hike. There are also an array of restaurants and a golf course within five minutes' drive of the venue if one feels like exploring the surrounding area. Lastly, Lake Naverone is situated around the corner from the iconic 'Highest Pub in Africa' found at the top of Sani Pass. This is a must-do activity for anyone who hasn't attempted the drive (or walk) up the infamous gravel road leading to the Lesotho Border Post – just remember to bring your passport and arrange 4×4 transport if you don't already have your own.
Writing this review, I've been thinking of ways to truly convey the essence of Lake Naverone to readers, and what I came up with is this: Lake Naverone is not just a destination, it is a feeling. It's that light, bubbly, happy feeling one gets when they've been truly able to connect with their surroundings and shut out the banal distractions of twenty-first century life. I left my holiday feeling renewed and invigorated, more focused on the intricacies of the every-day that I so often take for granted. I'd highly recommend Lake Naverone for your next holiday, I promise you'll be wanting to return as soon as you arrive.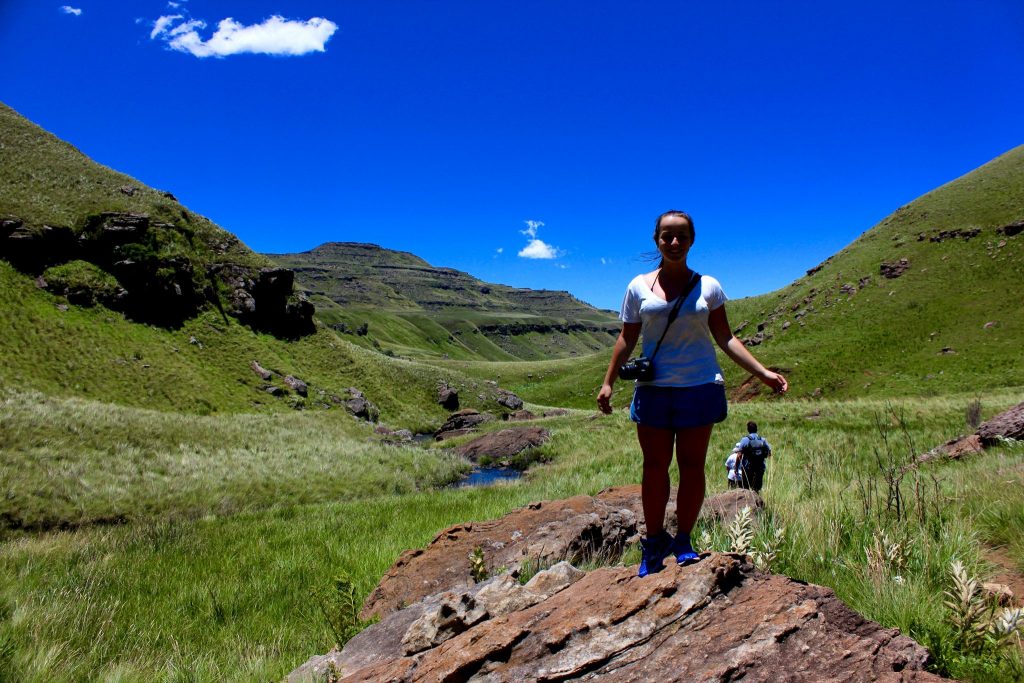 Lake Naverone
Tel: 033 701 1236
Website: https://www.lakenaverone.co.za
Email: info@lakenaverone.co.za